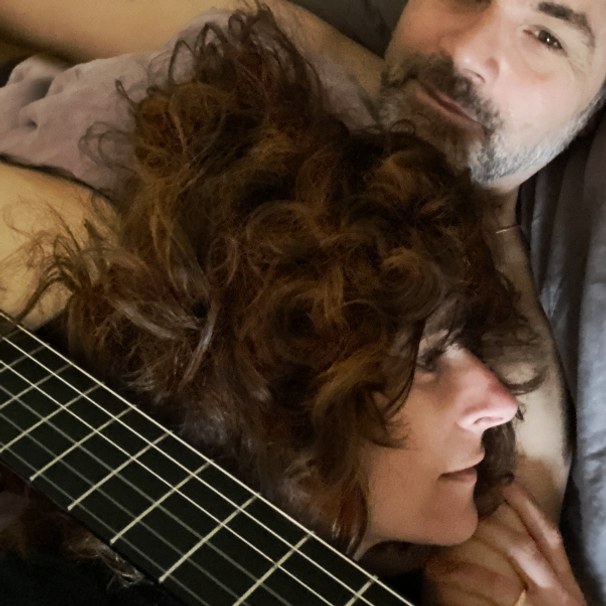 About Hither
"Once there was a girl who seemed to have the world
Everything that everyone said was very nice
and they were right, but… it was wrong.
In her heart there was a space where love belonged.
Then one night she heard her feelings in the words
of a song sung by a man she didn't recognize,
but In his eyes she saw the life
she remembered once dreaming of…"
And so it began. Two solo performers at an open mic in Fairfax, CA. Just two artists admiring each other from a distance. Yet, there was an undeniable pull that brought us together. When we perform our songs, we celebrate love, music, and the community we have the pleasure of building with you.
"I've hosted Hither in living rooms, backyards, and on stages, and they never fail to impress me with their professionalism, generosity, and kindness. On top of that, they're amazingly talented and engaging; audiences love them!" — Jasmine Pritchard, SongRise Studios, San Francisco, CA

A Hither performance is about connection; with each other and with our audience. We want to share our stories with you and give space to feelings about growing older, moving on, forgiving ourselves, feeling beautiful, finding love again, and getting lost in the pale moon shine.
We blend vocal harmony with alternate guitar tunings and light hand percussion to create a rich sound with a soulful pulse.

"Hither is always a favorite at the Little House Lounge. Their songs are beautiful—yes, and smart. And, delivered by Suzanne's sultry vocals and Mark's tasty accompaniment, they're irresistible." — Joel Schick, The Little House Lounge, Novato, CA

"Our Hither house concert was a magical evening for friends and neighbors. Their music and sweet blend of voices soothed and uplifted all who heard them." — Kathy Ries, Porch Concert Host, San Rafael, CA
 Hither is a San Francisco based duo featuring singer songwriter Suzanne Kramer (The Sugar Ponies, ♡ just Suzanne) with instrumentalist producer Mark Jeffery (The Mobile Homeboys, originator of ProTools).
"When she sings the title of the song it's whispery and sensual but she maintains a grip on her interpretation." — John Apice, No Depression

Delicate and nuanced, their music blends traditional acoustic instruments with evocative electronic timbres.  Sultry vocals with rich harmonies evoke a sense of unabashed vulnerability and intimacy.

Suzanne's voice is reminiscent of Julie London, Norah Jones, Hope Sandoval (Mazzy Star) and others, yet with a unique quality that is hers alone.  In 2017 she revisited her first musical love with a collection of jazz standards titled When We Fell In Love.

Mark is a multi-instrumentalist, songwriter, and vocalist. He's equally comfortable in the studio and on stage. He has the unique distinction of being the original software developer of the industry standard Pro Tools audio system.  He brings a broad range of talents to Hither; various stringed instruments, sampling and synthesis, along with earthy harmony vocals that pair well with Suzanne's silky voice.